Music Groups/Music Classes for Toddlers, Preschool and Babies
Online Music Groups/Music Classes for Toddlers, Preschool and Babies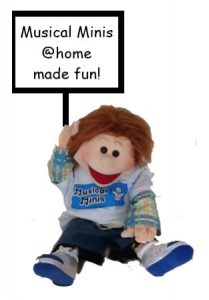 We know that many of you share the Musical Minis team's thoughts and are really disappointed that your local classes have had to stop due to the coronavirus situation.
In the 31 years Musical Minis has been operating we have never missed classes during term time. We are missing all our Musical Minis and so have decided to put Musical Minis sessions online.
Musical Minis @home is obviously different to our regular classes. The session will be shorter and whilst you may have some instruments at home you won't have the quantity or selection we have in classes. It will also be very different doing it at home without all the other Musical Minis around you joining in. However, we hope that Musical Minis @home enables you to have some educational fun.
Musical Minis @home made fun!
Hi I am Amy and I am delighted to be have been given the opportunity to manage the Musical Minis Teesside and South Durham area. I'm originally from South Wales, but I now live in Ingleby Barwick with my husband, our two children Alexis (5) and Owen (3) and our two dogs Finlay and Ivy.
Alexis and Owen were both regulars at the Teesside Musical Minis sessions before they started into full-time nursery and the classes were hugely beneficial for them both. I started attending with Alexis when she was just 3 months old and since she's developed into a little singing star – she loves music and sings everywhere she goes!
The classes were even more helpful for Owen who was diagnosed with a swallowing disorder when he was very little. They were great for helping to bring along his speech, co-ordination and confidence in an environment where he could feel relaxed and be around other children of his age. He has since developed into a bright and mischievous little boy – he certainly keeps us and his big sister on our toes!
As for me, my background in music started from a young age and I attended Chetham's School of Music in Manchester where I specialized in flute, piano and vocals. After leaving school, I worked as a club singer with one of my friends and our band Seren was a regular in the pubs and clubs of South Wales for several years. My day job however was very different, working as Veterinary Nurse and I eventually pursued this as my main career for 10 years before stopping when the children came along.
It came as a nice surprise therefore when I was given the opportunity to get back into music and temporarily help with the Teesside franchise in 2018. And I am even more pleased that I've once again been given the opportunity now! We run classes in Ingleby Barwick, Thornaby and Billingham – all are very friendly with a lovely atmosphere and offer a great opportunity to meet other parents and children in a fun setting. I look forward to meeting you and your little ones there!
To read Musical Minis Health and Safety reassurance in relation to coronavirus click here.